We believe you will find one of the nicest thrift stores around. Spacious, friendly, clean, and organized. We strive to be the best. 
Through the sale of donated items, we are able to support the ongoing outreach of the SGBC Compassion Ministries, whose purpose is to show compassion by demonstrating the love of Jesus and hope of the Gospel to our neighbors and community. 
Our store is a true reflection of the love of Christ demonstrated by volunteers who believe in the purpose of the ministry.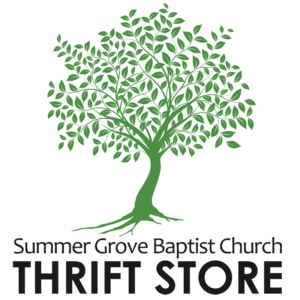 GENERAL INFORMATION
GENERAL INFORMATION
OPEN
2nd & 4th Saturdays: 9:00am – 1:00pm
Donation Drop off times:
Mon-Wed: 9:30-2:00
To schedule a pick-up for furniture and large items, please call the store 318-686-8617.
While we appreciate donations, we reserve the right to refuse them.
ACCEPTED ITEMS
Just about anything that is clean, working, and in good condition.
Furniture must be suitable for sell. Free from major stains or structural defect. Must be smoke free and preferably pet free.
Piano's and large exercise equipment will be based on the volume we currently have in the store.
ITEMS NOT ACCEPTED
TV's that are over 10 years old
Items that do not work properly
Used mattresses/box springs
CONNECT WITH US ON FACEBOOK TO FIND UPDATES ABOUT THE THRIFT STORE.